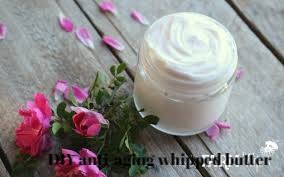 I can't believe, it's already September and our beautiful summer slipped away quicker than I realized with gradually getting shorter day light, crisper nights, and kids back to school after their summer break. Similarly, as we get older, our skin ages naturally, showing wrinkles, age spots and dryness depending on variety of factors; loss of collagen and elasticity, our life style, heredity, diet, pollution, sun damage. Transitions are always difficult. Just like we never want to lose our loved ones, we (especially women) don't want to lose our glowing skin and youthful beauty.
Last week I did write about 'How to stay healthy in 60's and beyond', today giving DIY anti-aging butter recipes to be used together with implementation of lifestyle changes and habits. While there are many commercial, expensive anti-aging products, serums, creams available, that contain potentially harmful chemicals which damage skin in the long-term. Here are couple of my anti-aging blend recipes using natural anti-aging Essential Oils that are versatile without causing any harmful effect to our environment or our bodies (making sure that you are not sensitive to an essential oil before using it). These Essential Oils truly hydrate and nourish the skin in the long-term because of their natural therapeutic properties.
Anti-Aging Pleasant Skin Butter
1 cup organic coconut oil (in solid state not liquid)
10 drops Myrrh Essential Oil (maintains firmness, prevent wrinkles)
10 drops Frankincense Essential Oil (reduces fine lines, and wrinkles)
10  drops 

Sandalwood Essential Oil 

(soothes and smooths skin)
10 drops Vit E
Take out coconut oil in a glass bowl or a large measuring cup, whisk with hand blender at high speed for about five minutes till light and airy. Now add essential oils and lightly whip again to blend oils well. Store in a labeled wide mouth glass jar with a lid. Apply this light-smooth butter daily on your face, neck, and/or hands once at night(or twice morning and night) to enjoy the result.
Anti-aging Skin Serum
2 TBSP Sweet Almond Oil or Apricot Seed Oil (moisturizer, skin healer)
10 drops Carrot seed Essential Oil (anti-aging)
10 drops Geranium Essential Oil (skin booster)
7 drops Frankincense Essential Oil (reduces fine lines, wrinkles)
Mix all ingredients in a 2oz glass bottle, label and cap it. Apply this serum on face and neck once at night after removing makeup and cleaning face at night.
Om Healing……………Uma
Call 414-793-8645, to schedule your consultation appointment with Uma