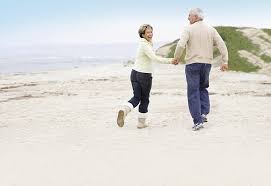 All of us who are in their 50s & 60s have realized very quickly how difficult it is to maintain a perfect health, but there is a good news, it's in our control to stay fit by:

 1. Keeping our Mind Sharp: according to a recent studies, socialization which is beneficial for emotional and cognitive functions, otherwise people become depressed , isolated, and brain exercise (like playing board games, doing puzzles, word plays on names and/or places) together with physical exercise.
2. Balanced Diet: plays an important role in maintaining our fitness. There is no "one size fits all" diet, but a balanced diet high in Omega 3 Fatty Acids, Antioxidant will help to manage healthy weight and control inflammation,  together with appropriate supplements (calcium, magnesium, vitamin D and K).
3. Physical Activity: as we age, regular exercise and staying active is very important to be healthy, lower the risk of high cholesterol, better circulation, reduce joint pain, control weight, and have a good night sleep.
4. Prevention: be in control of your health by following above three advice and follow periodically with your doctors for diagnostic testing.
Besides this, Essential oils are a versatile tool that can aid with detoxing our body, curbing excess food hunger, managing our stress levels, and sleep pattern. There are various ways to apply essential oils for maximum benefits; direct inhalation, steam inhalation, diffusing, bath, massage, rubbing oils on bottom of feet that correspond to different organ systems in the body. Some of the Essential Oils that could be used to maintain our health:
Lavender: reduces stress and calms nerves, insomnia
Peppermint: for nausea, migraine, stress, energy boost
Lemon: energizing and de-stressing, for cleaning
Geranium: balances oil, conditions skin
Tea tree: antibacterial, antiviral
Oregano: purifying, boosts immunity, respiratory
Frankincense: strengthen immune system, assist in cell regeneration
Ginger: aids digestion, eliminate motion sickness, nausea, joint discomfort
Thyme: simulate the production of white blood cells and boosts the immune system
Rosemary: stimulates circulatory system, helps clear the mind
and many more.
Om Healing……………Uma
Call 414-793-8645, or e-mail: ubagadia@aromawellness.net, to schedule your consultation appointment with Uma